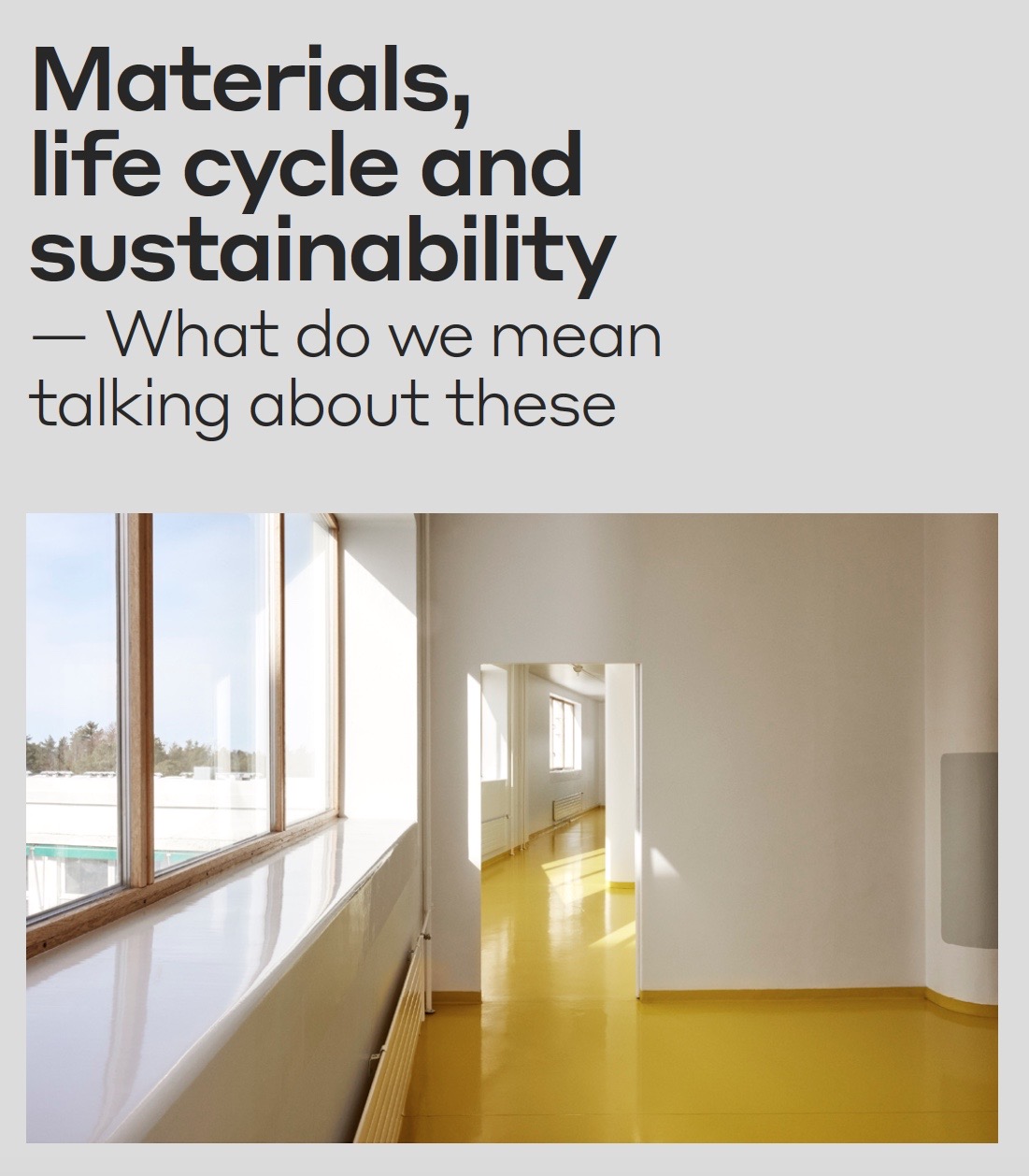 MATERIALS, LIFE CYCLE AND SUSTAINABILITY  – WHAT DO WE MEAN TALKING ABOUT THESE
On Monday 22 May 2023 at Paimio Sanatorium
The Paimio Sanatorium discussions for emerging new worlds is a discussion series celebrating the 90th anniversary of the Paimio Sanatorium. The themes of the events derive from Alvar and Aino Aalto's radical combination of architecture, nature and research which focuses on the wellbeing of the individual.
How we create and understand the world around us, what we value and consume and how businesses are evolving and need to evolve, are rapidly becoming the key focus of the transition to a sustainable future. 
Industries and companies are awakening to the need to re-evaluate business models, supply chains, production models and locations. Among others, this raises questions of re-patriating production and its consequences, as well as the benefits and challenges of production at home versus production abroad.
To accommodate the world's population and development will mean that building, producing furniture and other goods will not cease in the foreseeable future. What needs to change is our way of viewing materials as resources, our understanding of design requirements and how we integrate the potential for reuse, life-cycle thinking and collaboration between industries, to develop new solutions, applications, techniques and even materials.
We are ready to ask questions and to search for answers.
Join the discussions and sign up here before the 17th of May. The event takes place at the Paimio Sanatorium (Alvar Aallon tie 275, 21540 Paimio).  Please note that photos and video clips will be taken during the event.
For more information, please contact Lotta Mujo lotta.mujo@paimionparantola.fi / +358 40 77 67 803.
MATERIALS, LIFE CYCLE AND SUSTAINABILITY  – WHAT DO WE MEAN TALKING ABOUT THESE 
Monday 22 May 2023 at Paimio Sanatorium
PROGRAM
9.45               Registration, Coffee
SESSION 1 Materials – building a better future
10.00             Welcome / Mirkku Kullberg, CEO of the Paimio Sanatorium Foundation
10.15             Existing buildings as a future asset / Tommi Lindh, CEO, Alvar Aalto Foundation
10.45             From waste to value – sustainable biopolymers to replace fossil raw materials / Lari Vähäsalo, Founder, R&D Director, CH Bioforce Ltd.
11.15             Wood City Supercell / Teemu Halme, Architect, Anttinen Oiva Architects
11.45             Panel discussion
Tero Niemelä, Business Development manager, Skanska
Tommi Lindh, CEO, Alvar Aalto Foundation                    
Lari Vähäsalo, R&D Director, CH Bioforce Ltd.
Teemu Halme, Architect, Anttinen Oiva Architects
Moderator – Eric Rawlins, Paimio Sanatorium Foundation
12.15             KEYNOTE Promoting new thinking – Media's role in a changing landscape / Hanna Nova Beatrice, Founder & Creative Director, The New Era Magazine
13.00             LUNCH (self-purchase)
SESSION 2 Life-cycle – creating value and longevity
13.35             Welcome back / Mirkku Kullberg, CEO of the Paimio Sanatorium Foundation
13.45             The story of Vaarnii / Antti Hirvonen, Founder, Vaarnii
14.15             Embracing the scratches: Franckly as an enabler of design items' circularity / Reetta Noukka, COO, Finnish Design Shop & Franckly
14.45             Panel discussion
 Hanna Nova Beatrice, Founder, The New Era magazine
Reetta Noukka, COO, Finnish Design Shop & Franckly
Antti Hirvonen, Founder, Vaarnii
Moderator – Mirkku Kullberg, Paimio Sanatorium Foundation
15.25             Guided tour of the Sanatorium
16.00             End of Day – See you soon again!
TOMMI LINDH, CEO
ALVAR AALTO FOUNDATION

Architect Tommi Lindh is the CEO of the Finland based Alvar Aalto Foundation which works globally on all things concerning Alvar Aalto. Lindh did his licentiate theses in 2002 on 1930's apartment blocks in Helsinki. Later he has concentrated on issues concerning the sustainable conservation of modern architecture and Alvar Aalto. He has worked for the Finnish Government for 15 years as a Senior Advisor on architectural conservation. During his time as the director of the Alvar Aalto Foundation and Museum he has designed the layout of 10 exhibitions to the Alvar Aalto Museum Gallery in Jyväskylä, written several articles on Aalto and lectured on a variety of subjects to different audiences in several countries. Today Tommi Lindh works to advance the nomination of Aalto's sites to the UNESCO World Heritage List and to widen the cooperation between the Alvar Aalto Cities of the world. This will be done by using the vast museum collections and by making new publications, exhibitions, events, and training available to a wider public. The interest in Alvar Aalto is ever growing.
LARI VÄHÄSALO, R&D DIRECTOR
CH-BIOFORCE
Lari Vähäsalo is an expert in the field of chemistry with a doctoral dissertation at Åbo Akademi, whose specialties are wood and paper chemistry, biomass fractionation, analytical, organic and process chemistry. Even before joining CH-Bioforce, he has developed several new analytical methods for laboratories and online applications for the paper industry. One of his most important achievements was the introduction of flow cytometry in the paper industry – now used by virtually all chemical suppliers. Vähäsalo has founded Oy ACSI-Solutions Ab, which has operated as a consulting and analysis service company for the mining and paper industries. He was the Founder and Chairman of the Board of Oy ArboNova Ab, which manufactured and sold natural antioxidants that were extracted from tree branches. The company had customers in more than 40 countries. The current work at CH-Bioforce is based on the innovation of Ab BLN-Woods Ltd, the company he founded. At CH-Bioforce, Vähäsalo is responsible for product development, which covers technology development as well as new materials and applications.
TEEMU HALME, ARCHITECT
ANTTINEN OIVA ARCHITECTS
Teemu Halme is a project Architect with experience in urban scale wood architecture. Halme has worked at Anttinen Oiva Architects since 2008.
TERO NIEMELÄ, BUSINESS DEVELOPMENT MANAGER
SKANSKA
More than 135 years in the making, Skanska one of the world's largest project development and construction companies. Its operations in Finland cover construction services and residential and commercial project development.  Skanska has begun to actively promote the circular economy in its own operations. Skanska is involved in the international ReCreate project, in which the concrete elements of a building removed from the road for a new building are to be reused.
HANNA NOVA BEATRICE, FOUNDER & CREATIVE DIRECTOR
THE NEW ERA MAGAZINE
Hanna Nova Beatrice is the Founder and Creative Director of The New Era Magazine. With many years of experience as editor in chief and publisher of design and interior magazines, she has a firm believe in the magazine as a cultural platform, to gather ideas and promote new thinking.
ANTTI HIRVONEN, FOUNDER & CEO
VAARNII
Antti Hirvonen is an industry expert with over 15 years of experience with design products. Previously he has worked as an independent consultant for online retailer Finnish Design Shop and high-end accessory brand L'Objet. Prior to that he worked as Managing Director APAC at Tom Dixon and Area Manager at Artek. Having lived in the USA, the United Kingdom and Hong Kong, Hirvonen is currently based in Helsinki. He has a MSc in marketing from Aalto University Business School.
REETTA NOUKKA, COO
FINNISH DESIGN SHOP & FRANCKLY
Reetta Noukka works as Chief Operating Officer at Finnish Design Shop and is a member of the three-person executive team. She holds a MSc from Turku School of Economics and has also studied International Design Business Management at Aalto University. Previously Noukka has worked for Unilever and Artek. Provided by Finnish Design Shop, Franckly is a curated online marketplace where you can buy and sell pre-owned design. By closing the loop of design objects, Franckly promotes sustainability, authenticity and high-quality design.
Join the discussions and sign up before the 17th of May.